May 7, 2018
Viridian Grand Opening How-To Guide
It's the final Esencia neighborhood grand opening! Welcome to Viridian by TRI Pointe Homes.
Join us on Saturday, May 12th from 10am to 3pm for a family-friendly spring celebration at Viridian.

Located in the coveted Hilltop Neighborhoods, Viridian will allow homeowners to live large. With 4- to 6-bedroom, two-story homes ranging from 2,516 to 3,171 square feet, there is plenty of space for any growing family.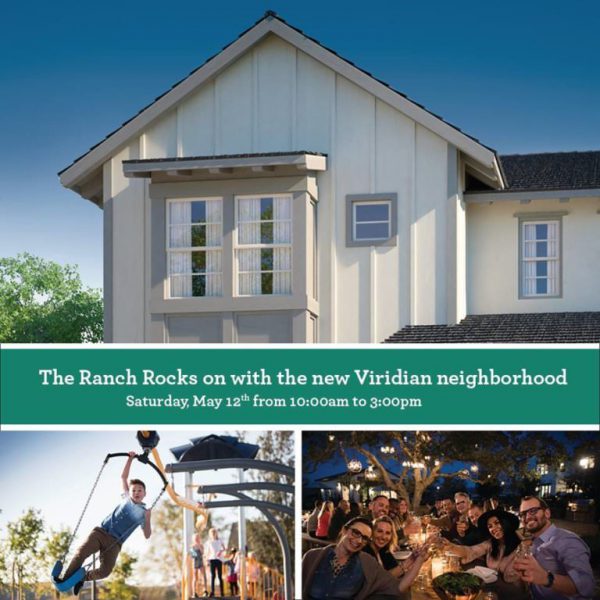 Bringing Big Backyards Back!
Remember when you were a kid, growing up with the freedom of a great big backyard? In Rancho Mission Viejo, Viridian invites you and your family to rediscover that feeling. Here, yards are large enough where even a pool is a possibility.
Anticipated from the $900,000s to low $1Millions, Viridian's interiors are every bit as refreshing as what's outside. There's a downstairs bedroom and bath ready to welcome weekend guests; bright and luminous open-plan great rooms for entertaining; and, you'll enjoy the distinct zones for dining, Netflix-binging, and mastering the art of the gather-round-the-kitchen-island family meal.
Click here to get a sneak preview of each floor plan.
Family Fun!
Looking for fun ways to keep the whole family entertained? All the excitement is taking place at Viridian. Savor refreshments and enjoy a live solo artist throughout the celebration. Have kiddos in tow? Don't worry. We've got you covered. We'll have a craft station where kids can decorate a flower pot of perennials and customize a card – just in time for Mother's Day!
We also invite you to visit the award-winning Hilltop Club, where home shoppers can learn about The Hilltop Club's indoor and outdoor fitness spaces, open-air bar with lounge seating, table-top shuffleboard, fire pits and BBQ pavilion, swimming pool and spa, classic gaming arcade and more.
Looking for more information about all of the neighborhoods at Rancho Mission Viejo? Stop by the Visitors Center at The Garage. The Garage is located within "The Backyard," a 5.5-acre linear park dotted with an eclectic mix of amenities, including covered loggias, fire pits, a zip line, children's play zones and playhouses, a DIY workshop, and more. Click here to get directions to the Esencia Visitors Center.
Turn-by-Turn Directions to Viridian
As a new community, some of Esencia's roadways may not be available on your GPS, so please use the directions below.
– From Highway 5, head East on Ortega Hwy.
– Turn left and head North on Antonio Parkway.
– Turn right on Cow Camp Road.
– Turn left on Chiquita Canyon Drive.
– Turn Right on Airoso Street.
– Left on Tila Street, and then follow the signs to the Viridian models.
Don't forget to like us on Facebook and follow the hashtags #TheRanchRocks on Twitter and Instagram for up-to-date information. We can't wait for you to join on Saturday, May 12th!
Click to explore all of The Ranch's amenities here!