September 15, 2015
How-To Guide: Esencia Grand Opening
As the big day nears, we're excited to share our guide to getting the most out of Esencia's Grand Opening. Guests will get a first official look at our newest village on The Ranch. With more than 40 different model homes, you can let your imaginations soar as you tour each one, and discover what living on The Ranch is all about.
Join us Sunday, September 20th to discover elevated living.

How do I get there?
Please note that Esencia's new roadways may not be available on your GPS, so please use the following directions and look for Esencia event signage. Take Ortega Highway to Antonio Parkway. Take Antonio Parkway north to Cow Camp Road. Follow Cow Camp Road to Esencia Drive and turn left on Esencia Drive. Parking and Shuttle Pick Up will be on the right.
Where should I park?
We will have signage to guide you to park your car in the lot at the corner of Cow Camp Road and Esencia Drive. Once there, you will find a shaded tent with chilled water to enjoy while you board one of fifteen shuttles that will be running between 9:00am-5:00pm on the day of the event.
What are the shuttle routes I can choose between?
Two shuttle routes will take you to different stops within Esencia. The first stop on both routes is to the Canyon House and Esencia Farm.
Shuttle Route 1: The Gavilán route will take you to all 55+ neighborhoods, which offer single-level living. Look for the image of the Gavilán sparrow hawk on the outside of Gavilán shuttles to ensure you're getting on your desired shuttle route.
Shuttle Route 2: The second route will take you to our all-ages models. At each stop, you'll be able to explore another facet of our newest village. If anyone in your party has mobility issues, please let us know. We will have golf carts and drivers on staff to assist you to each model.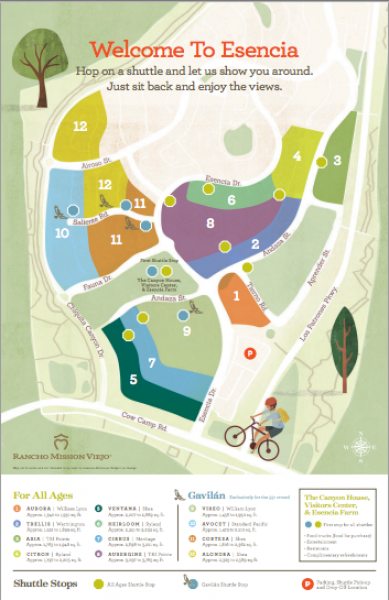 What should I expect?
After you park your car and get ready to hop on the shuttle, we suggest visiting The Canyon House for more information on our models and amenities. While you plan your day, enjoy a sample of Peet's Iced Tea, served at Canyon Coffee adjacent to The Canyon House.
Another amenity that we are incredibly proud of will also be ready for you to view on September 20th. Esencia Farm, next to The Canyon House, is a unique community farm with a barn, raised planter beds, row crops and fruit trees. The Farm features an outdoor courtyard where we'll host gatherings and workshops for Esencia residents.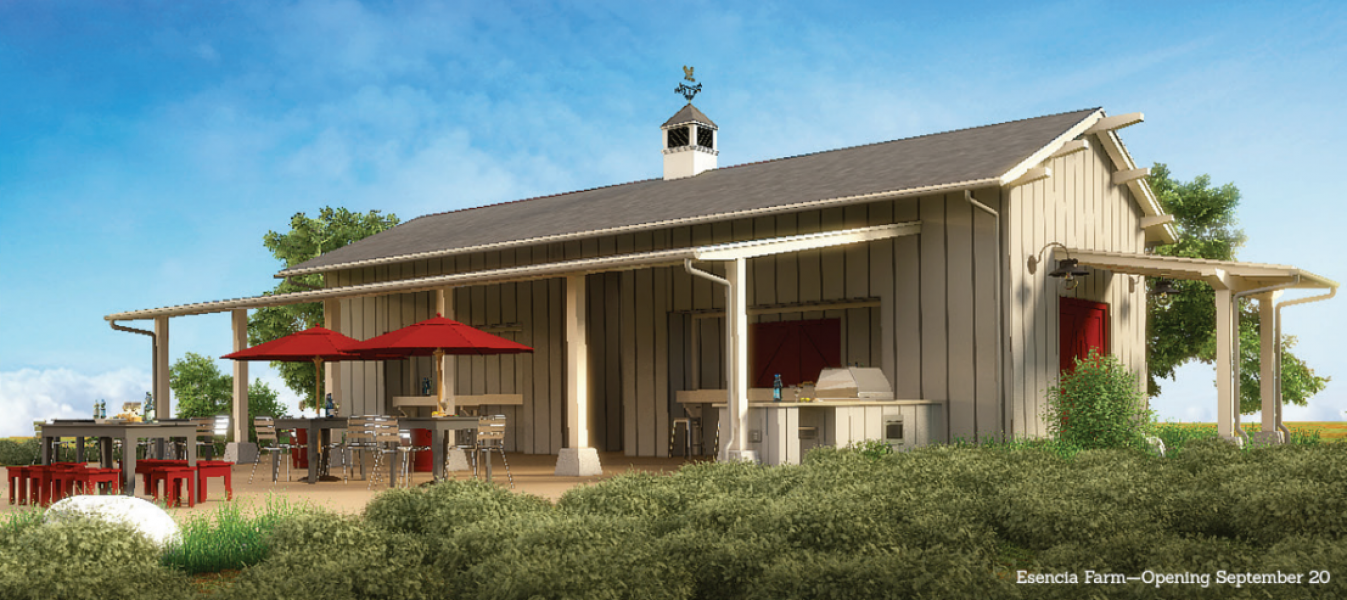 But, don't forget to just look around. Some of the best views are at The Canyon House. Gaze out at Oak Canyon and take in the green oak tree canopy. We'll also cross our fingers for a clear day so you can catch glimpses of our beautiful coastline in the distance. Once you've taken it all in, talk to our staff about the other must-see items of the day. We'll help you plan your experience so it's as smooth as possible.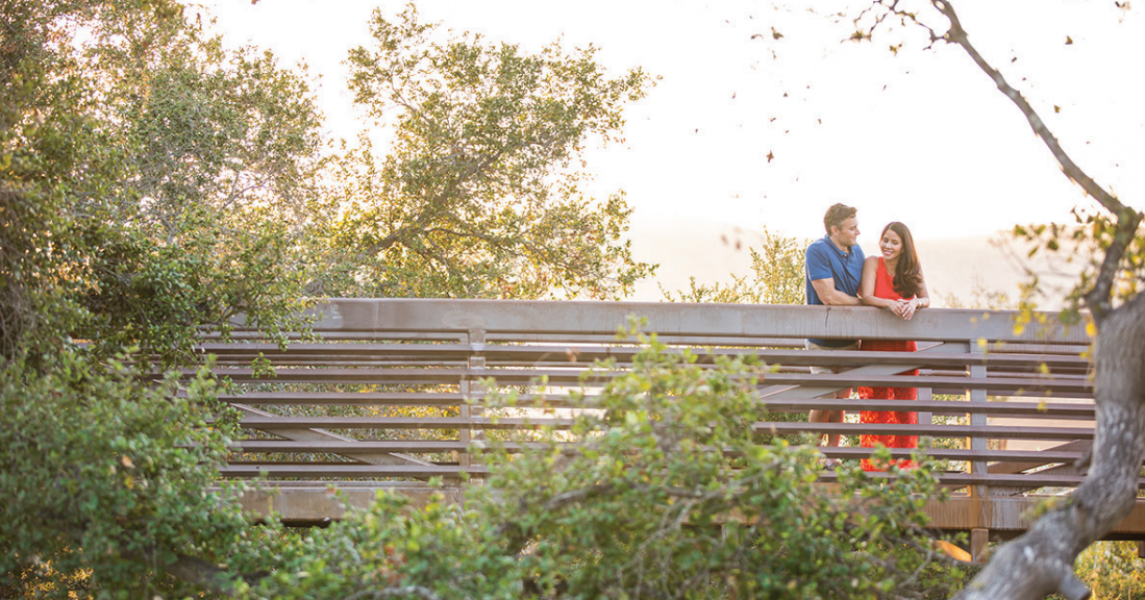 Will there be food?
Yes! There will be two gourmet food trucks located between Esencia Farm and The Canyon House where you can purchase fresh cuisine. Choose between:
If you're by The Canyon House, Farmer's Belly will be serving a tabletop menu. Stop by for some delicious, seated catering. Gloria Broming, our incredible Community Farmer, will also be on site with fresh herbed popcorn, infused water and refreshing lemonade.
Will there be entertainment?
As you stroll through Esencia, keep your ears peeled for music from two of our favorite artists. Over at Esencia Farm, a Jazz Trio will be getting down with their favorite tunes, while Frankly Bella performs at The Canyon House.

What should I bring?
Just bring yourself and your family members. We'll do the rest! Hospitality is just a way a life on The Ranch. Have questions? Let us know. We are always happy to help.
Looking for information the day of? Like us on Facebook and follow the hashtag #EsenciaOpening on Twitter for up-to-date information. Be sure to post your own day-of photos to Instagram and tag us @RanchoMissionV!