December 19, 2018
From Our Farm: Recipes You'll Relish
Welcome to The Ranch, where our community farms are just as popular as our pools, parks and other neighborhood amenities.
As an Agrihood, we understand the importance of having easy access to locally-grown, nutritious food. Our goal is always to inspire residents to fully understand the bounty of the lands they live on and to develop a deeper appreciation for the seasonality of the harvest.
Our very own Esencia Farm, Sendero Farm, and Gavilan Farm feature 12,000 square feet of planning space including a variety of in-ground row crops, 14 planter beds, and orchards for that very reason. From avocado to bay trees, to fruits and walnuts, there's a variety of food produced for Ranch residents and the surrounding communities to enjoy.
Esencia Farm also offers a welcoming courtyard for culinary workshops and demonstrations so friends and neighbors alike can get acquainted with their local food sources. Throughout the community, there are about 40 volunteer opportunities offered biannually to give residents a chance to try their hand at growing their own produce.
We always say, growing isn't the only fun part, though! Take a look at these recipes, hand-crafted by our very own farm hands!
Sarah's Radiantly Roasted Watermelon Radishes
Did you know? Watermelon radish is not only in season right now, but it's one of our most popular specialty crops currently being harvested. Here's one of our favorite dishes, featuring this ingredient, that's simple, satisfying, and downright delicious!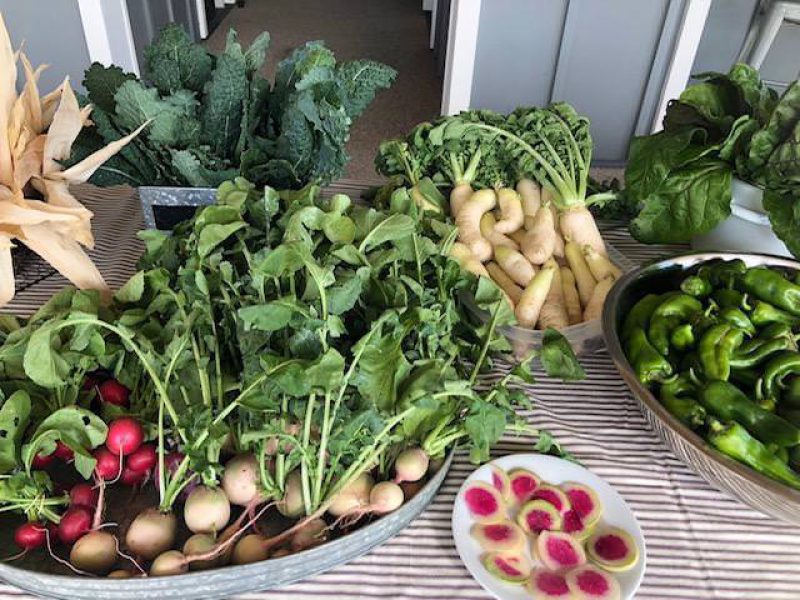 Sarah's Radiantly Roasted Watermelon Radishes
Ingredients
½ to 1 lb of locally-grown watermelon radishes
Olive Oil (or oil of choice)
Sea Salt
Directions
Gather a bunch locally-grown watermelon radishes
Preheat oven to 376º
Cut radishes into wedges
Mix radish wedges with 2 tbsp of olive oil (or your desired oil) and place radish wedges into a 2qt baking dish
Roast radishes for 1 hour, stirring occasionally until fork tender
Remove radishes from oven and drizzle with 1 tbsp. of oil and sprinkle the entire dish of radishes with sea salt
Enjoy yourself or share with neighbors and loved ones!
Dan's Farm-Fresh Butternut Squash Quinoa Salad
Dan's Farm-Fresh Butternut Squash Quinoa Salad
Ingredients
1 ½ cups red quinoa
1 butternut squash
½ cup roasted almonds
4-6 scallions
5 oz arugula
2-3 avocados
½ cup olive oil
½ cup balsamic vinegar
Directions
For the Quinoa

Rinse well
Bring 3 cups of water and the quinoa to a boil
Reduce to a simmer, cover, and cook until the water is absorbed about 15-20 minutes

For the roast butternut squash

Preheat the oven to 425 degrees
Peel the butternut and remove the seeds
Chop into 1/4" pieces
Toss with olive oil, salt, and pepper
Spread on a baking sheet and toast for 15-20 min until cooked through and starting to brown

For the salad

Chop almonds and scallions
Toss with cooked quinoa, roasted almonds, and arugula
When ready to serve, mix olive oil and vinegar and toss into salad
Season salad with salt and pepper
Top with chopped avocado
Do you have a locally-sourced recipe that you want to share? Reach out to us on social media or post with the hashtag #RMVRecipes! You can connect with our Rancho Mission Viejo community on Facebook or Instagram. We look forward to hearing about your delicious, farm-friendly creations!