February 12, 2015
9 Things to Do at Sendero Field
Adults and kids alike are rallying for the opening of Sendero Field, set to hit the scene this Spring. Why all of the anticipation? Well, spread over 15 acres, the community park is the definition of fun-in-the-sun entertainment.
With a children's Adventure Play Park, lush practice field, all-inclusive pickle ball courts, multi-purpose event lawn and relaxing plaza, there is no shortage of activities at Sendero Field. But, to get you started, here are eight must-do's when Sendero Field opens.
Plan a movie night.
When the sun goes down and the stars come out, we'll be broadcasting our favorite films in the park. Here's what to bring: your coziest blanket, plenty of buttered popcorn, a few mugs of hot chocolate, and – of course – someone better have the Red Vines.
Batter up.
First, pop in The Sandlot to channel your inner Squints. Then, grab your bat and glove and practice your swing at the youth's baseball field and softball field, adjacent to the Adventure Play Park.
Just kick it.
Soccer practice just got way more fun…and convenient. Sendero Field is outfitted with a practice field for your little aspiring athletes or a quick pick-up game with your buddies. Grab your cleats and haul off for some goalie practice over the weekend.
Pack your picnic.
With 15 acres, Sendero Field is filled with grassy knolls and lush areas to enjoy a homemade lunch spread. Fill your basket, find your perfect square of green and enjoy a beautiful afternoon. Get the recipes for some of our favorite picnic mash-ups here! Or, fire up the outdoor BBQ and enjoy the breeze under our Ranch-style shade structure. Lunch just got way more country.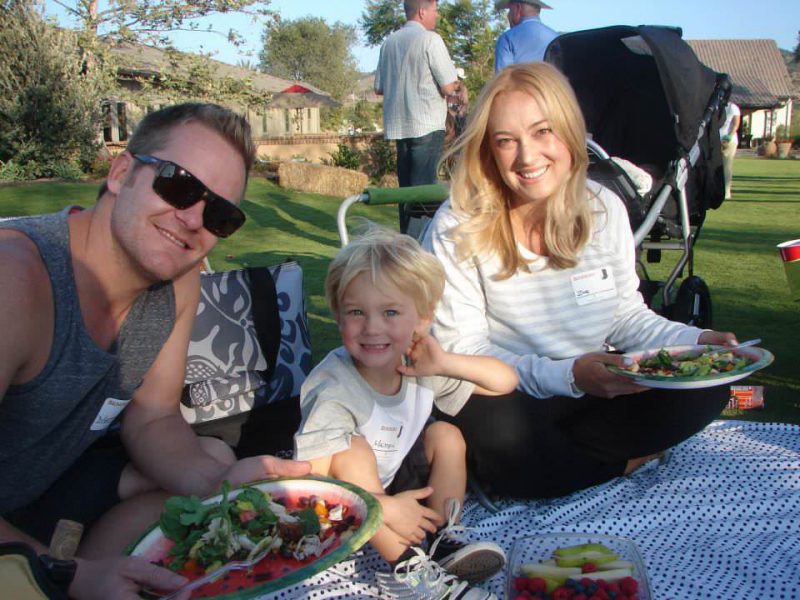 Join the Ranks of the Plein Air Painters.
Incredible talent abounds in this group of painters, and Sendero Field on The Ranch couldn't be any more perfect for painting gorgeous scenery. No matter your artistic level, grab a canvas and brush, and head outside to tap your inner artist.
Find your center.
As any yogi will tell you, yoga is about finding yourself, finding strength and achieving balance. Bring your mat to Sendero Field to help your practice along. With crisp air, rustling leaves and bright sunshine, you'll find inspiration at every corner.
Practice your Go-Pro skills.
You're the next Spielberg! Grab your Go-Pro and get practicing. Sendero Field provides endless opportunities to shoot nature in its best state. Be the director of a calming, scenic documentary, or get active on the soccer field and show the world what it's like to be an MVP. Check out the awesome work of one of our residents!
Reintroduce the nostalgic Red Rover Red Rover
We all know how we really spent afternoons on the playground. Now it's time to tell your kids! Introduce one of our favorite past-times to your kids and send them right over to test their strength!
Get ready to PARTY.
The event lawn at Sendero Field is perfectly manicured and ready for you to rock and roll. Throughout the year, we'll host special parties and get-togethers for all of our residents. To sweeten this space even more, there will also be outdoor concerts you won't want to miss!
Start your Sendero Field bucket list now. When Sendero Field opens this Spring, it very well may become one of your favorite places on The Ranch.