July 25, 2013
The Del Webb Difference
Located close to the beach, employment hubs and boasting beautiful preserve views, Del Webb's new active adult community offers a sought-after lifestyle with homes that feature inspired designs and innovative features. With the backdrop of Rancho Mission Viejo's abundant amenities and endless natural open spaces, Del Webb brings its consumer inspired homes to Gavilán, a gated 55+ enclave in the new Village of Sendero.
Featuring unique single level home designs, Del Webb's new community is nestled at the top of rolling foothills with easy access to parks and trails. Homes in this Del Webb neighborhood are located on one side of the street, maximizing views and open spaces.
The Del Webb Neighborhood is designed for pre-retirement and retiring boomers who want to continue to explore, grow and learn – socially, physically and intellectually. Few take Del Webb's detailed research approach to better understand the attitudes and opinions of the boomer generation and keep track of the latest trends.
When Del Webb set out to plan the ideal 55+ neighborhood at Rancho Mission Viejo, teams put homebuyers at the forefront of the design process. The home designs are the result of extensive consumer research and analysis of buyer feedback that reflect the way baby boomers want to experience life and live in their homes, explains Linda Mamet, vice president of sales for Del Webb's Southern California Division.
"Del Webb conducts extensive research to ensure that our home designs are evolving with the needs of buyers, and that we anticipate their future needs," said Mamet. "We know that there are many baby boomers who plan to still work or want to retire close to where they currently live. Del Webb at Rancho Mission Viejo offers all the benefits of 55+ living in this sought-after Orange County location."
Del Webb's research identified what matters most to 55+ homebuyers as they forge their way into a new stage of life:
Independence. A community that offers independence… but with family nearby. In fact, 70% of boomers say they want their space, yet to live near family and friends. That's what makes living on The Ranch an ideal place for Del Webb buyers. Gavilán is a private 55+ enclave, in close proximity to Sendero's all-ages neighborhoods and activities.
Engaging Lifestyle. Living in a 55+ community doesn't necessarily mean retirement. About 60% of people who are looking to live in active adult communities are still working in some capacity. Del Webb understands this and builds homes to suit the still-working and active 55+ lifestyle.
Entertaining Atmosphere. Del Webb's new plans are designed with living spaces that are bright and open. Excellent flow between eating and entertainment spaces that expand the family room space provides the ideal setting to entertain family and friends. From covered outdoor rooms to optional wet bars, Del Webb's consumer inspired homes support personal rejuvenation, social interaction, entertainment, and easy, effortless living.
By keeping their finger on the pulse of 55+ living, Del Webb has developed homes that adapt to your evolving priorities. Click here to tour the 3 different plans offered.
Del Webb Homes on The Ranch
Del Webb homeowners can choose from three single-level home designs with spacious floor plans and energy-efficient features, starting at $830,990 and ranging in size from 2,026 to 2,310 square feet. From spacious great room layouts, to gourmet kitchens anchored by oversized islands, to everyday entries with convenient drop zones, you can see how Del Webb has constructed a home with you in mind.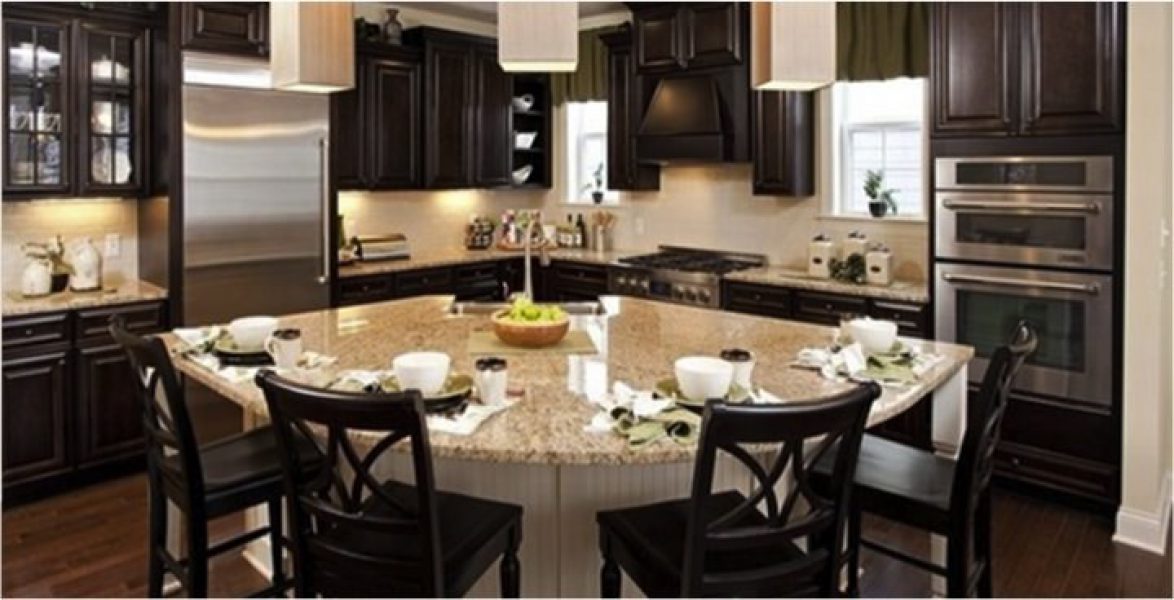 And, because Del Webb knows you love to entertain and host parties, from cocktail hours to dinner and game nights, these homes are the epitome of an entertainer's dream.
Each plan is crafted to help homeowners host with ease. The kitchen showcases a pivotal center island, a great place to set down the groceries, prepare dinner and even host a relaxing evening with friends.
Want to entertain outdoors? Bring your guests into your backyard where you can showoff your stunning views of The Ranch.
Situated atop the beautiful, lush rolling foothills of Rancho Mission Viejo, Del Webb's homes are set among a scenic backdrop that you can enjoy from your covered rear patio or sun room.
Special Design Feature: Sun or Hearth Room
Del Webb offers a unique design feature in their floor plans with an optional sun or hearth room to connect indoor/outdoor living. This feature can add a whole room at the back of the house, allowing homeowners the freedom to design this light-filled space as they see fit. With beautiful views of the preserved open land on The Ranch, the sun or hearth room can be converted into a:
Cozy reading area
Coffee lounge
Extended dining room
Painting, hobby and/or craft room
Office
No matter what you choose to do with this room, what you'll appreciate most is how Del Webb has developed homes with high-end design, beautiful architecture and functional floor plans that allow you a chance to create your dream home oasis.
Fully furnished model homes at Del Webb at Rancho Mission Viejo are open daily from 10 a.m. to 6 p.m., Mondays starting at 1 p.m. For more information, call 877-226-0482 or go to www.delwebb.com