September 19, 2017
Retired, LA Homebuyers Captivated by Cortesa
If you haven't meet Vince and Dolores Foley yet, we can safely say it's only a matter of time.
These Gavilán® residents are two of the most active Gavilán ambassadors at Rancho Mission Viejo. They were also the first to close escrow on their new home in Cortesa by Shea Homes, one of the eight 55+, Gavilán neighborhoods available in the Village of Esencia.
Both Los Angeles natives, Vince and Dolores Foley spent their entire life in Arcadia and have been married for over 56 years. Despite the fact their son and family lived an hour south in Irvine – and had been trying to convince the Foleys to move to Orange County for 15 years – Vince and Dolores didn't want to leave the house that had been their home for 35 years.
"I finally told my son, 'If you can find me a single story, single family residence in Orange County, we'll be happy to look at it,'" explained Vince. "Of course, I knew full well we were safe because he'd never find one. I thought there was no such thing. Then, two and half years ago he called me out of the blue, and said: 'Guess what, dad? We found it. You're moving.'"
And, so began an exciting new adventure for the Foleys.
Courting Cortesa
On their first visit to Esencia, the Foleys were introduced to Cortesa by Shea Homes. Cortesa is a Gavilán, 55+ neighborhood offering four floorplans ranging from 1,816 to 2,362 square feet with 2 bedrooms and 2.5 baths. Three of the four plans are single-story homes, and the fourth plan offers an upstairs bonus room for homeowners to use for hobbies, an at-home office or even hosting guests. Coming from Los Angeles, the Foleys were ready to downsize, but they still wanted enough room to entertain.
They felt the most at home in the single-story Plan Two and said the model home's large outdoor living room and oversized great room were right up their alley.
Here are just a few of the other things they loved about Cortesa… in their own words:
It's Brand New – "Here, you get what you want right off the bat. You don't have to make a bunch of alterations to a house. You start off with your home exactly the way you want it."
Well Designed Floorplans – "The houses are all very welcoming and warm. The way they've set up the rooms is perfect. There are minimal walls so everything feels connected and spacious."
Their California Room – "This indoor-outdoor space is just great! We put a fireplace, a big screen TV and a ceiling fan in ours. So, we sit outside whenever we can."
Low Maintenance Backyard – "Most of the backyards at Cortesa are modest, which is good because most homeowners here have gotten rid of all of their gardening tools. We wanted something easy."
Friends Fall for Esencia
As it turns out, it's not just the Foleys who have been wooed by Cortesa. It seems their lifelong friend has turned into a Rancho Mission Viejo ambassador too.
"We have a close friend who puts on a party once a year and takes four couples out to dinner as his Christmas present to us all," explained Vince. "When we invited him over to see our new home, he was stunned. In fact, he asked if it was okay if he bring everybody up to our house instead of going out to a restaurant this year. He wants all of our friends to see the neighborhood, so he's getting a limo and driving our friends down from Fullerton and Brea to see our place. We're all the same age, and he thinks Esencia is the place we all ought to live together!"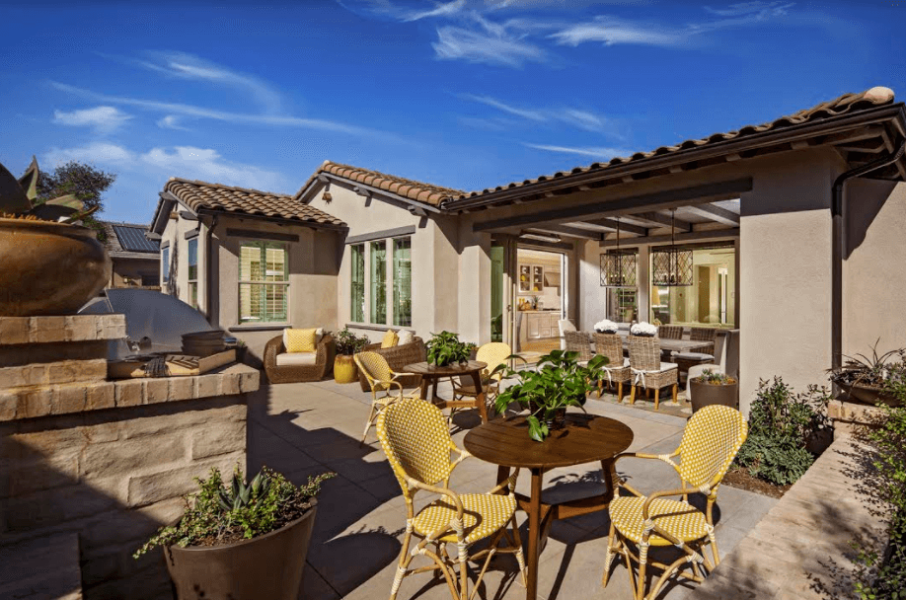 Your Guides to Gavilán
So, what makes Gavilán at Esencia the perfect place for 55+ homebuyers? We asked Vince and Dolores to describe what they love about Gavilán:
What makes Gavilán so special?
"Everybody here wants to know everybody. Everybody is virtually in the same situation," said Vince. "They are moving from an established place to a brand-new community, where each one of us gets to participate in the formulation of our community. It's not like you're moving into a place where you have neighbors who've been there for 30 years, and they are looking at you as an interloper. Everybody here is brand new."
Why did you want to become a Gavilán Ambassador?
"We want to be a resource for people," explained Dolores. "Many people we talk to haven't moved in years or they've never purchased a new home before. They aren't sure how to approach the process, don't know what they should buy or even what shutters to choose. It's a lot. We get it. We lived in our last home for 35 years and finally chose to leave Los Angeles after visiting Esencia. It's a big decision, but we're happy to tell people how wonderful it is living here."
What would you tell someone considering a move to Esencia?
"Don't be afraid. It's a huge step in anybody's life, especially when you're older," explained Vince. "It can be very daunting, but if that's you, I would say don't worry. Moving is a great way to start over again. It's like a rejuvenation. Living here is a lot of fun, and building your own home is very rewarding."
What do you love most about your neighbors?
"I love that everybody has the same thought process, which is 'I'm going to have a great time with my new neighbors.' After all, when you're retired, we're all looking for a new life and a whole lot of fun!"
Want to learn more about Cortesa by Shea Homes? Browse photos and floorplans here. Don't forget to sign up to get more information about their homes and brand new models.
Want to learn more about Gavilán at Esencia? Stop by The Canyon House. Who knows, you just might see Vince and Dolores there too. They'll be happy to share more about their story and show you around the neighborhood.