November 22, 2019
7 Reasons Why Now is a Good Time to Buy a Home at Rancho Mission Viejo

You know you're ready to move. You know South Orange County is your next "home!" And, your heart is set on a new construction home in a master-planned community. After all, where else can you live in on a 23,000-acre ranch and community nestled between Cleveland National Forest and the historic town of San Juan Capistrano, and still be just five miles from the beach?
Now, the only question is: when is the right time to buy?
The truth is, it can be difficult for home shoppers to make sense of real estate trends, evaluate the health of the current market, and weigh all aspects of this important decision.
The good news is there are a number of clear factors and metrics that may help you get off the fence and start putting down roots! If you've been considering buying a home in our beautiful south Orange County community, we're here to tell you - the time is now.
Here are 7 top reasons why now is a good time to buy a home at Rancho Mission Viejo.
Historically Low-Interest Rates.
Mortgage interest rates are down, hitting a 3-year low of 3.5% in September 2019. If you're looking at the macro trend though, interest rates are at nearly 20-year lows.
This isn't projected to last long, however, as there has already been a slight but steady uptick in the rates in just the last 2 months.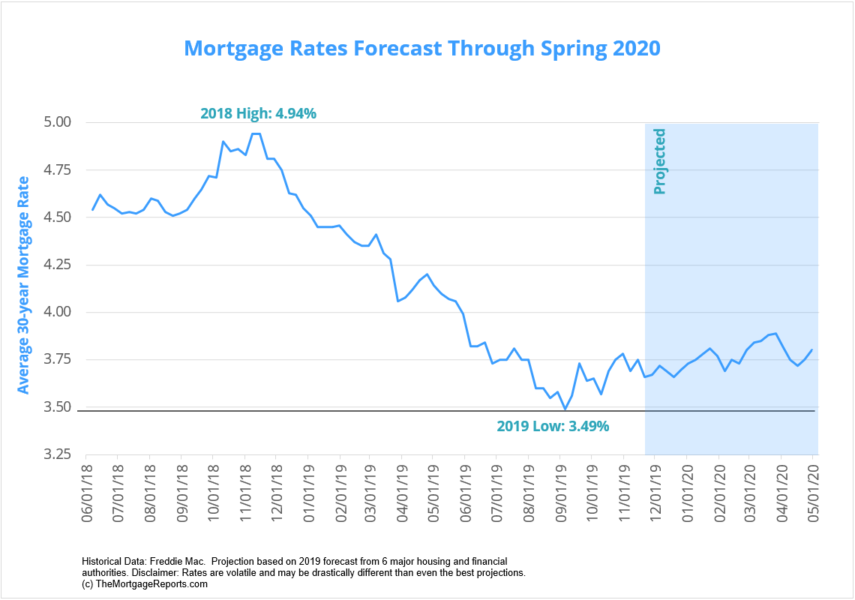 Image from the themortgagereports.com. Historical Data: Freddie Mac. Projection is based on the 2019 forecast from 6 major housing and financial authorities.
For many, this dip may make previously unaffordable homes more attainable. Take for example, the insight that Ken Perlman, from John Burns Real Estate Consulting, an organization that provides independent research and consulting services related to the U.S. Housing Industry, shared in a recent interview:
When you're buying a home, it's not just about the final price of the home. It's a function of the question, "How much can I afford every month?"
If the answer to that question is $4,000, for the sake of this example, consider the impact of your interest rate. If the interest rate goes down, you can either buy the same home for a lower monthly payment. Or, you can consider buying a larger home for that same $4,000 a month.
It's important to note that these are just averages and your interest rate depends on a number of factors such as loan type and credit score.
Mortgage Interest Deductions
The mortgage interest deduction allows a person to significantly reduce their taxable income by the amount of money they've paid in mortgage interest during the year.
Ultimately, what this means is that the interest you're paying on your home loan will help reduce your tax bill.
So, how does buying a home near the end of the year benefit you when it comes to the mortgage interest deduction?
If you purchase your home now, it will potentially set you up for a larger tax cut in 2020. This is due to the fact that you will have paid a full year's worth of mortgage interest, most of which can then be deducted from your taxable income.
Alternatively, a person who buys a home mid-year would only be able to deduct a few months-worth of mortgage interest paid and would have to wait until his or her 2021 tax returns to redeem the remainder of the available deduction. In addition, you risk not being able to write off any mortgage interest if the amount paid doesn't outpace the standard deduction.
End-of-Year Home Builder Incentives
This time of year is especially interesting for earnest homebuyers. Why? Homebuilders are highly motivated to sell and close on homes before the end of the year.
The financial pressure that lies on the shoulders of the homebuilders means leverage for you. Often, incentives are offered to the homebuyer such as credits toward their closing costs, upgraded finishes, or even HOA fees being covered.
Purchase vs. Rent
The state of the rental market is an important trend for buyers to consider.
It's no secret that rents are steadily rising. The national average rent went up by 3.4% in July 2019 compared to the previous year. In addition, the average rent in Southern California cities is generally higher than the national average.
This means that if you are currently renting a home or apartment, you're putting money into something that will continue to rise in cost, and will never give you any returns on the money you put in. In some cases, with trends moving the way they are, you might be paying (or will someday be paying) more in monthly rent than a monthly mortgage would cost.
Buying A Home Is An Investment
At the end of the day, a good investment is something that will pay you more than you paid for it. In many cases, buying a home is one of the best investments someone can make — when done with careful planning. This is because home resale prices tend to rise over time, allowing you to invest in your future. Homeowners also enjoy other financial perks such as tax breaks.
In addition to the financial investment, buying a home is also an emotional investment. Most of the time, homeowners report feeling a sense of pride and stability, and are also more likely to be more invested in the local community.
Your Home, Your Way
Another, more personal, aspect of owning a home is you have the ability to make it yours. Often, even small changes, like painting an accent wall, are impossible when renting. When you own your own home, you are able to make it come to life however you want to.
Having the freedom to turn a house into a home is a small but powerful reason to invest in homeownership.
New Year, New You
Kick-off your 2020 with a fresh start.
With the new year, comes new opportunity and if you're already considering relocating, there's no better time to do it than now. At Rancho Mission Viejo, we are proud to have a thriving, tight-knit community.
You'll have access to world-class amenities such as fitness centers, pools, parks, farms, nature, and more. In addition, our RanchLife resident programs are one of the many ways we incorporate fun and bonding in our community. This includes daily, weekly and monthly events such as community-wide parties, cultural activities, happy hours, clubs and more.
Have kiddos in tow? Our local K-8 school, Esencia School, is part of the award-winning Capistrano Unified School District and is well-regarded for its S.T.E.M (Science, Technology, Engineering, and Math) curriculum.
However, what makes this community especially unique is the land. Rancho Mission Viejo is like nothing else in Orange County. It's where contemporary homes live side-by-side with the last ranch in Orange County. Here, orchards, vast acreage, and California wildlife line the edges of daily life. It's this unique combination of elements that makes the community one-of-a-kind.
Ready to get off the fence?
From record-low interest rates and an investment into your future to establishing roots in a thriving community and starting the new year off fresh, there are numerous benefits to buying a home at Rancho Mission Viejo.
We'd love to show you what life at Rancho Mission Viejo could look like. If you are interested in learning more about our beautiful new home community, contact us today!