December 16, 2019
Pickleball is a BIG Hit on The Ranch
Did you know, Pickleball is the fastest growing sport in the United States?
It's fun and easy format has made it popular worldwide, and Rancho Mission Viejo is no exception!
In fact, Rancho Mission Viejo has over 125 people in its resident-led Pickleball Club, which meets at Sendero Field almost every day of the week to take advantage of the community's Pickleball courts. And, starting Summer 2020, there will be four new permanent courts debuting at the Grand Opening of Esencia Sports Park.
So, why is Pickleball all the rage? Let's take a look at what Pickleball is, why Rancho Mission Viejo residents love it, and how you can get involved.
What is Pickleball?
As the USA Pickleball Association states, Pickleball was invented in 1965 on Bainbridge Island, a short ferry ride from Seattle, Washington. Three dads – Joel Pritchard, Bill Bell, and Barney McCallum — whose kids were bored with their usual summertime activities — are credited for creating the game.
A paddle sport created for all ages and skill levels, Pickleball combines many elements of tennis, ping-pong and badminton. Perfect for singles or doubles, Pickleball is played both indoors or outdoors and requires only a paddle and a plastic ball with holes.
The rules are simple, and the game is easy for beginners to learn, but can develop into a quick, fast-paced, competitive game for experienced players.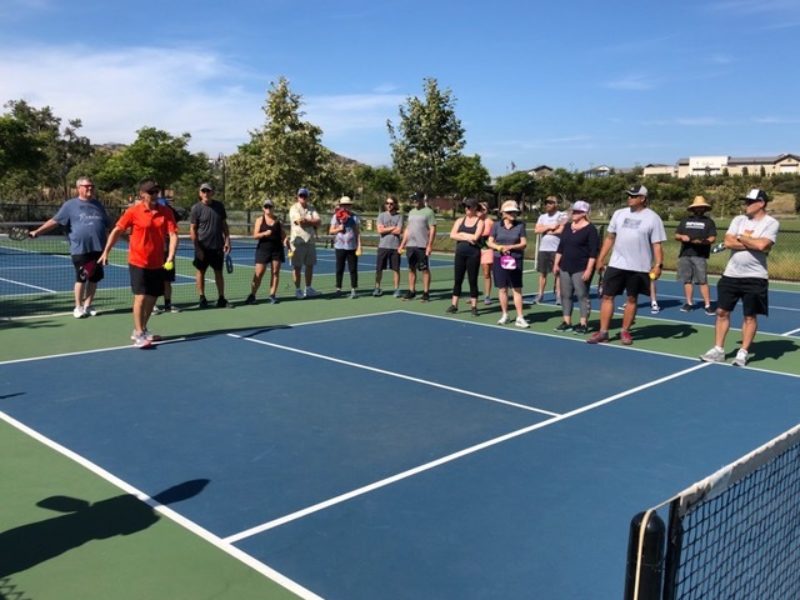 Why do Ranch Residents Love It?
After a quick conversation with anyone who plays Pickleball, you can see how passionate they are about the sport they love.
Rancho Mission Viejo residents, Craig Watkins and his wife Pamela Watkins, have lived in the Avocet neighborhood since 2016 and have been playing Pickleball as part of the Rancho Mission Viejo Pickleball Club for years. They play in tournaments throughout the area and are even going to a tournament in Arizona.
If you ask them though, this sport is truly for everybody.
"If you can play ping-pong, you can play Pickleball! That's what I tell people," explained Craig. "Want to imagine what it's like to play? Think about what it would feel like to stand on top of a ping-pong table while you play with friends. That's what it's like to play Pickleball."
And, as far as they are concerned, age is just a number.
"This is a game of skill. It doesn't matter what age you are. Anyone can be good at it. We have people playing Pickleball well in to their 80s. In fact, we have a member who's 85 who's one of the best player."
What does the Pickleball Club offer?
The Pickleball Club is a resident-led Club that welcomes people of all ages and skill levels. Interested in joining? They have something for everyone with two types of events: All-play or Challenge play.
All Play is a fun, light hearted experience, where anyone, any age, and any skill level can play together. Rancho Mission Viejo residents can join them Monday afternoons or Tuesday and Thursday mornings to take part in this mixer-style environment.
Feeling more competitive? Then you may want to try Challenge Play, which is offered Monday, Wednesday and Friday mornings. With Challenge Play, you're matched with people of a similar skill level to make the games even more exciting.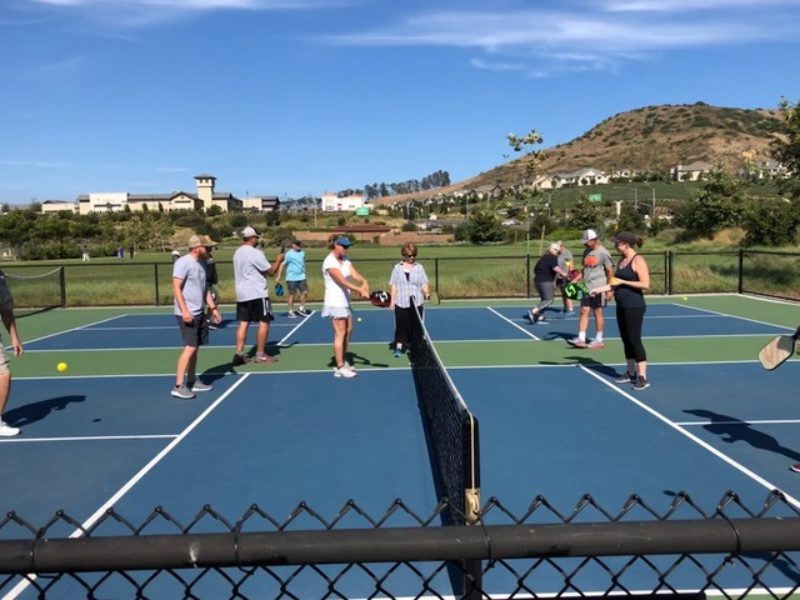 Come experience life on The Ranch!
Resident-led clubs like Pickleball are common on The Ranch. Community involvement, connection with likeminded people, and amazing amenities makes life at Rancho Mission Viejo that much richer.
Take a look at everything RanchLife has to offer here: RanchoMissionViejo.com/amenities.