August 21, 2018
The Wilsons Take a Permanent Vacation on The Ranch
When Bruce and Lorrie Wilson came to visit family in Orange County, they hadn't anticipated their vacation would result in a relocation. But, the Wilson's stumbled upon Rancho Mission Viejo and fell in love with the stunning views, rolling topography and ease of the Gavilán, 55+ lifestyle.
"Since Bruce retired, we'd been casually thinking about a change of scenery," said Lorrie Wilson. "We were in town visiting my father and asked a realtor to show us some options. We weren't interested in buying…we just wanted to see what was out there. We were curious about a 55+ neighborhood, but still wanted to be near young families."
Enter Rancho Mission Viejo, a 23,000-acre ranch and vibrant community in South Orange County. Here, residents of all ages enjoy award-winning amenities, stunning new homes and a unique approach to living that keeps homeowners connected to both the land and community at large.
Once the Wilsons visited the intergenerational village of Esencia at Rancho Mission Viejo, they knew they were home.
Welcome to Vireo at Esencia

"When we sat in the model home in the Vireo neighborhood at Esencia, it just felt right," said Bruce Wilson. "The access to open space, the landscaping, the amazing amenities – we just love it all."
Priced from the low $600s, Vireo by William Lyon Homes offers five single-family attached floor plans ranging from 1,456 to 1,950 square feet. With a casual elegance, single-level designs and an elevated location with coastal and backcountry views, Vireo had everything the Wilsons could have ever wanted.
The Wilsons put an offer on their new home that very day and rushed back to Granite Bay to put their house on the market. It sold in less than a week and within thirty days, Bruce and Lorrie were back on The Ranch – this time, for good.
Living the Gavilán Life
Woven throughout Esencia's all-ages neighborhoods, Gavilán® neighborhoods, like Vireo feature single-level living with ageless appeal for those 55+. Homeowners love al fresco dining with friends, open air rooms and retreats, and even a morning latte at nearby Canyon Coffee, one of the many amenities on The Ranch.
In fact, all of Esencia's neighborhoods are oriented around key social and recreational amenities, offering shared space for enjoyment by residents of all ages as well as events, activities and programs exclusive to residents age 55+.
In the center of the Vireo neighborhood, residents love visiting the BBQ Barn, which offers fire pits, bocce ball courts, an open-air barn and more. Outside of the Vireo neighborhood, homeowners also have access to The Outlook, a 55+ retreat with a Resort-style lap pool, cabanas, TV and outdoor dining area, and The Getaway, a perfect place for an afternoon picnic or sunset happy hour.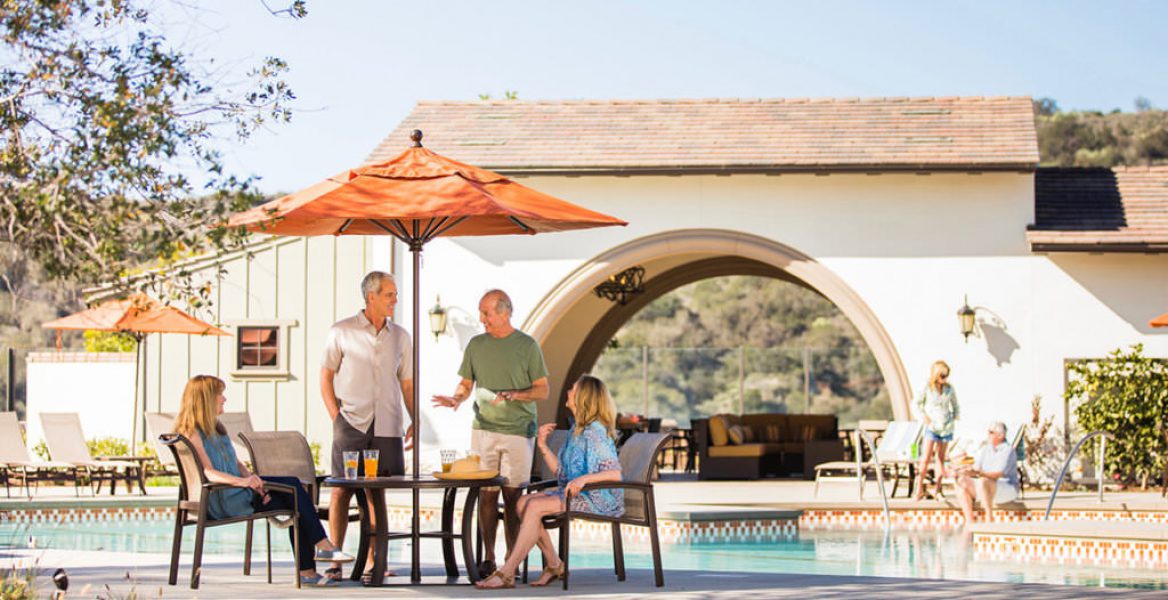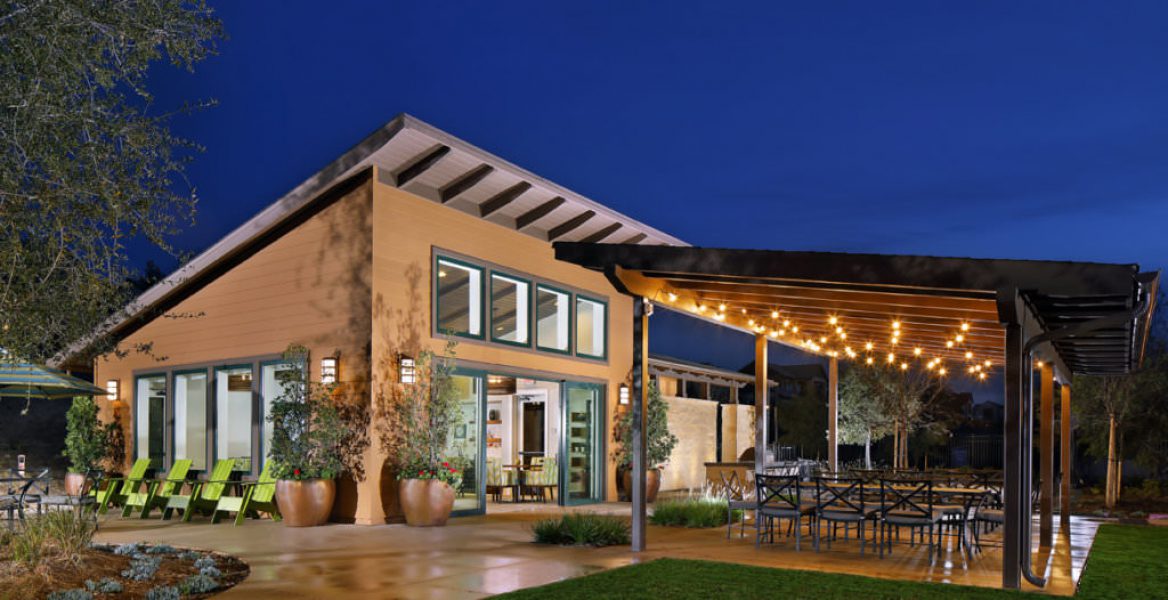 These are just a few of the many 55+ amenities, which give Gavilán residents an opportunity to live near families but also enjoy some privacy. However, for residents with children and grandchildren, there are still plenty of amenities throughout The Ranch that will thrill people of any age.
Chief among Rancho Mission Viejo's all-age amenities is the award-winning Hilltop Club. Recently named the "Best Community Amenity Feature" by the Building Industry Association of Southern California, The Hilltop Club is situated atop some of the highest elevations at Esencia.
Residents enjoy stunning coastal and backcountry panoramas as they experience a bounty of amenities and programs, including indoor and outdoor fitness spaces, a group exercise studio, an open-air bar with lounge seating and shuffle board, fire pits and BBQ pavilion, swimming pool and spa, and a classic gaming arcade for the young and the young at heart.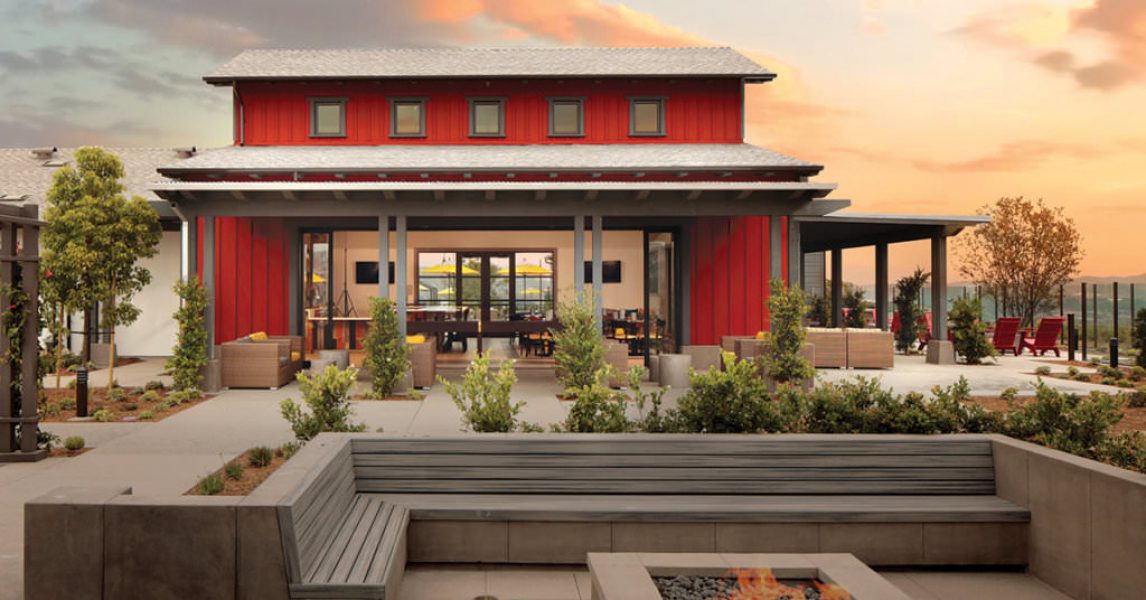 Among the additional amenities open on The Ranch are community farms, an outdoor camping area with casting pond, dog park, miles of multi-use trails and a scenic oak canyon preserve to traverse, event spaces, multiple pools and more. Ranch residents also gain access to The Reserve at Rancho Mission Viejo through exclusive docent-led hikes and unique programming.
"There's so much to do and see," said Lorrie. "We've joined clubs here in the community, taken a trip to LA with our neighbors and even took the train to an Angel's game. And, just yesterday, we had lunch in San Clemente. Everything is so close and easy to get to. We're over the moon to be here."
Want to fall in love with Esencia too? Find the Gavilán Neighborhood that's right for you: bit.ly/1j0CMj7